Cardinal Scale recognizes the service and contributions made by Lenis Rundle, Fabrication/Punch Press Lead. Lenis has been with Cardinal Scale since June 1993, spending his entire tenure in the Fab Shop.
Upon completing high school, Lenis joined the Army for two years. He completed Basic Training at Fort Dix, New Jersey and was stationed at Fort Lewis, which is located south of Tacoma, Washington. He spent most of his two-year service in Cargo Transportation, moving ammunition and equipment. Lenis attained Specialist 4 Class designation before deciding to leave the military and move back home. Lenis then spent 7 years with Eagle-Picher, working as a Press Brake Operator and Spot Welder. Wishing to find a schedule more amenable to family life, Lenis started looking elsewhere for employment. Luckily, Cardinal Scale had an opening for a Press Brake Operator. He interviewed with the late Steve Mesplay and started soon after.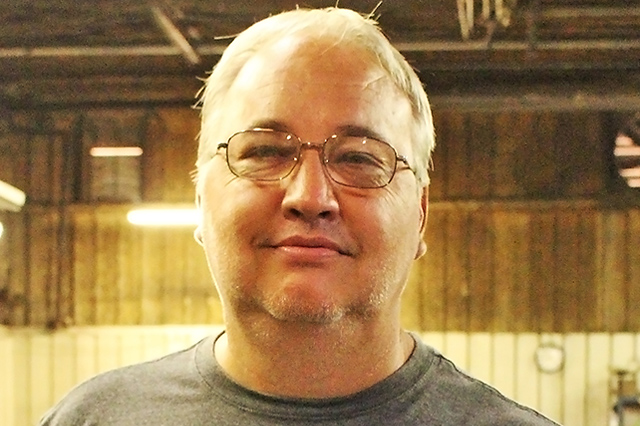 The Fabrication/Punch Press Department produces metal parts that are used in departments ranging from Electronics to Truck Scale Assembly. Fabrication/Punch Press's duties revolve around punching, bending, lasering, and cutting sheet metal into small, discrete parts. To keep the various departments supplied with sheet metal parts, Lenis' daily duties revolve around releasing work orders, helping operators set up machinery, training new hires, and filing print paperwork that aids in the production of parts.
"Lenis is extremely knowledgeable about Cardinal's products and processes. He wears many different hats that keeps this shop flowing. Cardinal is lucky for having Lenis as a long-term employee," states Brock Dawson, Fabrication/Punch Press Supervisor.
"The support I receive from my supervisor (Brock Dawson) and co-workers is what has kept me here through the years," states Lenis. He explains that the most challenging and important aspect of his job is trying to train new hires. "I want to make sure they receive the correct information and the company gets the most out of our time and effort," he says.
Lenis likes to spend his personal time with his wife, Rhonda, and his three daughters, Shelby, Ashley, and Audry. He also gets to spend a good amount of time with his grandchildren, Brook, Conor, Rylan, Tahlia, and Jaxson. He has a long list of plans he is currently working on including his '49 Chevy Pickup and completing remodeling projects on his house. He also likes to take day- and weekend trips around Springfield and Branson when time permits.